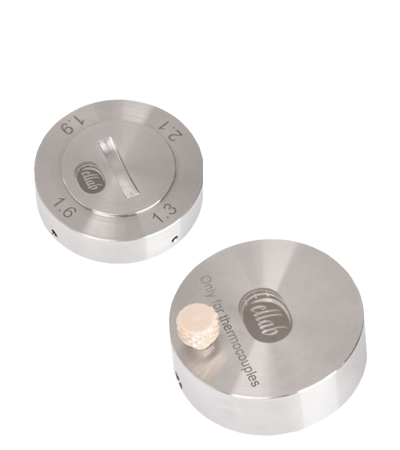 For Wireless Data Loggers
For Wired Thermocouple System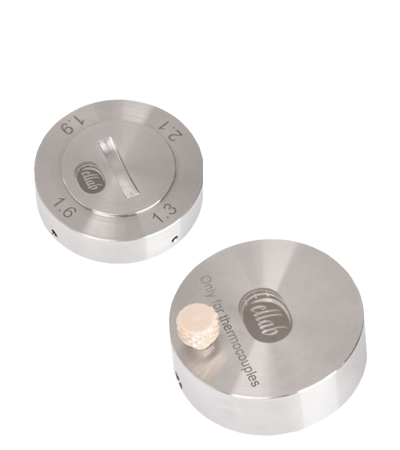 Contact Pucks
Contact Pucks for STC and RTD Sensors
The Ellab contact pucks are made of stainless steel and used to ensure proper contact between the sensor and surface, e.g. freeze dryer shelves. The size and weight ensure a stable contact, while also increasing the sensor response time, making it ideal for long/slow processes.
Contact Puck for STC Sensors (Thermocouples)
The Contact Puck for STC sensors made of AISI 316L stainless steel, has a Ø3.5 x 18.5 mm hole placed near the bottom that reduces the thermal conduction error to a minimum, providing optimal measurements of surface temperature. The PEEK screw keeps the sensor firmly connected as the weight of the contact puck secures a steady position for the entire operation duration. The contact puck works in the temperature range of -80 to +150 °C and weighs 84 g.
Multi Contact Puck for RTD Sensors
The Multi Contact Puck for RTD sensors, consist of AISI 316L Stainless steel and is designed with a unique central spring-loaded system. This design gently holds onto any sensor that matches the entry holes (Ø1.3 mm, Ø1.6 mm, Ø1.9 mm or Ø2.1 mm), which fit all standard SmartFlex, TC and semi flexible sensors. Its smart connect/release system does not involve tightening screws or o-rings, thereby ensuring that no damage is done to the sensors. The sensor entry holes are placed near the bottom to reduce thermal conduction errors and provide ideal measuring conditions to the surface.
The Multi Contact Puck, with its outer dimensions of ø30 x 8 mm, is completely maintenance free, has a temperature range of -80 to +150 °C and weighs 41 g.
Downloads and Related Articles
Easily identify the products suitable for your application with the Ellab Product Finder