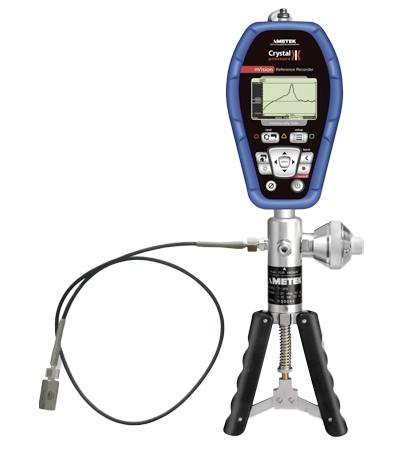 Pressure Range of
30 mbar to 7.89 bar ABS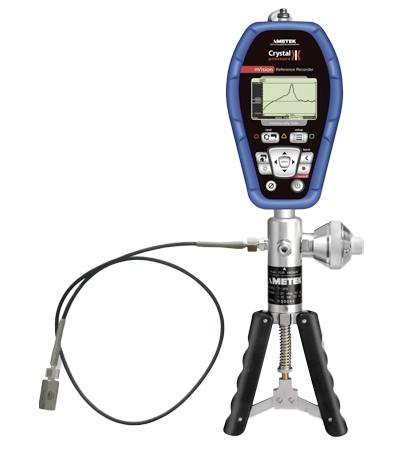 nVision Pressure Calibrator
Pressure Calibrating Device
nVision Pressure Calibrator is an intrinsically safe, hand-held device for generating and recording pressure up to 8 Bar A (100 psi / 7 Bar R). It is accurate enough to replace a dead-weight tester and portable enough to complete pressure calibrations anywhere.
The nVision records up 1 million data points at 10 readings per second from two modular sensor ports. Readings from either sensor have accuracy up to 0.025% of the indicated reading. Using both sensors, the nVision takes differential measurements at up to 0.05% of reading accuracy. All readings are fully temperature compensated, requiring no additional accuracy offsets for operating temperatures between -20°C to +50°C, and includes an accredited calibration certificate. During a test, the high-resolution LCD screen allows panning and zooming across any data set without pausing the recording.
The nVision runs on 4 AA alkaline batteries for 200 hours and weighs less than 1 kg. It is delivered completely with pump, software, aluminum protection suitcase, connection fittings and adaptor type 20003120
Other Calibration Solutions...
Key Features and Benefits
Ideal for field calibration purposes
Compact and maintenance free
Easy to setup and use
Covers pressure ranges for both TrackSense Pro and E-Val Pro sensors
30 mbar to 7.89 bar ABS (-0.97 to 6.89 bar Rel. / 100 psi) (Calibrated from 175 mBar to 7.89 Bar ABS)
Temperature Operating Range:
Expected Battery Life Time:
200 Hours (4 pcs. AA alkaline)
-40 to +75 °C / 0-90%, non condensing
Interface & Power Source:
Recommended Calibration Interval:
Downloads and Related Articles