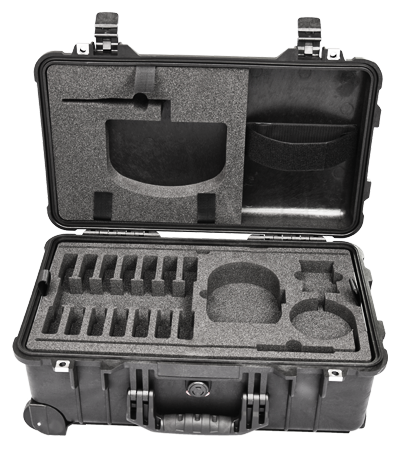 For Wireless Data Loggers
For Wired Thermocouple Systems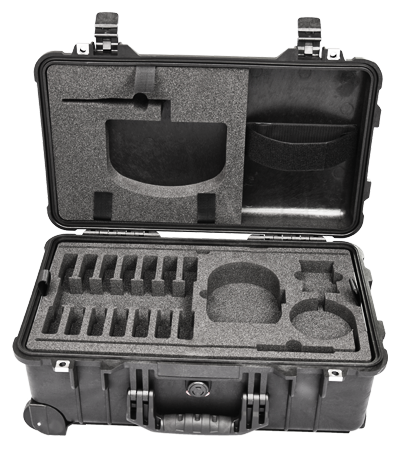 Flight Case
For Transporting Your Valuable Measuring Equipment
Taking good care of your valuable validation equipment is essential for keeping the performance level at its best. Protecting equipment also helps avoid unexpected downtime due to poorly packed devices being damaged. It is important to protect validation equipment, especially when it needs to be transported abroad and/or utilized at different locations. Protecting equipment ensures an optimal performance and reduces potential repair costs. For this purpose, one should always use an appropriate suitcase solution that is designed and fitted for each individual product.
In addition to the standard suitcases supplied with every equipment delivery and Ellab flight cases, a line of special suitcases is available. The dimension of the smaller suitcases is only 340 x 275 x 83 mm when compared to the standard size of 450 x 360 x 106 mm – a small scale version, highly beneficial for several purposes.
The flight case solution is the perfect choice for protecting and shipping Ellab validation/calibration equipment. Configured with different layers that fit the various Ellab hardware, these hard cases offer a compact design that protects all components from external stress. Available in two standard configurations and made of aluminum, the sturdy construction with foam inserts and key based locks, is a perfect travelling companion – and a perfect way of storing valuable validation & calibration instruments.
Ideal for validation companies or industries that use equipment on multiple sites, therefore requiring additional protection during handling and transportation.
Main advantages:
✔ Can accommodate E-Val Pro, TrackSense Pro and ETS
✔ Holds instruments in place and protects them from damaging blows
✔ Compact and sturdy design with key based locks (flight cases)
✔ Provides ideal protection for valuable equipment
✔ Customized configurations available
Downloads and Related Articles
Easily identify the products suitable for your application with the Ellab Product Finder